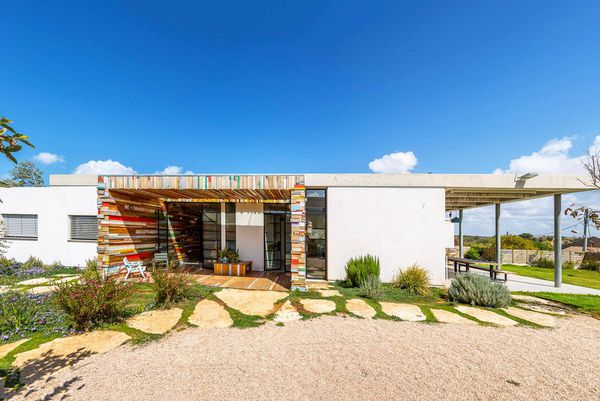 via inhabitat source Arch Daily by Ana Lisa
Brahma-Architects turned trash into treasure with their striking LAHO House. Located in a communal settlement in Israel called Hofit, the family home combines minimal lines with found materials. A colorful reclaimed wood wall divides the living area and art studio, and extends into a sheltered indoor-outdoor area created for relaxation and contemplating the views.
This curious one-story home sits on the corner of its plot, freeing up the rest of the space for greenery and recreation. Two layers of exposed concrete comprise the floor and ceiling, which are connected with white stucco walls –a sustainable material traditionally made from lime, sand and water. The home is divided for daytime and nighttime activities; on one side there is the kitchen, living room, porch and garden, while the bedrooms are in the back.
However the home's best feature is a gorgeous recycled wall made from multicolored wooden slabs. It divides the art studio and the living area, creating great contrast against the grey floors and white walls. The element extends from the studio and into the garden, forming a sheltered indoor-outdoor space for sitting, having a cup of Joe or dining al fresco.