Since the beginning we are connected to this project and love to share the progress of mindvisa see the article publishe in The Hindi for Tamil Nadu.
Students from Turkey and Thiruchitrambalam exchange information on culture, art and life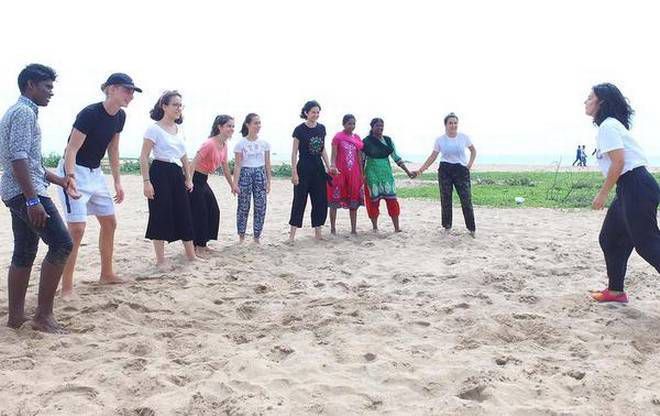 via The Hindi Newspaper by S.Senthalir  s.website mindvisa
It was a unique learning experience for 17 students from Istanbul in Turkey and six students from Gandhi Government Higher Secondary School in Thiruchitrambalam of Villupuram district as they interacted from August 17 to 28.
Sharing their culture and teaching each other different games and dance moves, the students bonded well, shedding their inhibition and prejudice. MindVISA, a pioneering educational initiative, has opened up the space for an interaction between rural and urban students. Since 2013, Uskudar American Academy (UAA) partnered with MindVISA to bring together students across socio-economic borders — rich and poor; urban and rural; foreign and local — to empower them to co-learn on an equal platform.
"We bring together students of varied socio-economic and cultural backgrounds for co-learning, leadership coaching and joint social service," said Satheesh Namasivayam, Managing Director of MindVISA.
"This is a platform to learn both about themselves and the world through art, music, dance, theatre, sports and leadership activities," he said. As part of the programme, the students have to visit the village and do something in the public space. "This time, they painted alphabets for the fifth grade students on a government school wall. While the students from Turkey learnt the local dance and culture, they taught their songs and games to the children here. This co-learning lead to self-exploration," he said.
A pleasant surprise
Seventeen year old Zehra Nur told The Hindu that it was her first visit to India. "I expected to see unhappy people drowning in poverty. But I saw people moving on with their lives even in poverty. It is so different from what I expected. Everyone is so nice and I did not feel like I was missing Turkey. I could live here for some more time," she said.
Selin ,17, said she did not know much about India. "There are lot of misconceptions about this country. Back home, most of them told me that people here are not civilised and warned me to be careful while eating and drinking. I got scared when I heard that. But my experience has taught me the opposite. People of diverse culture live together. I am going back home to tell each one of them how wrong they were," she said.
Students of the Gandhi Government Higher Secondary School in Thiruchitrambalam also shared their experience. Fourteen year old Parimala. P said, "Initially, we were scared because we have never spoken to students from a foreign country. When we started learning and working together, we became good friends."
The sessions are being facilitated by expert facilitators of MindVISA — along with Rekha Tandon, Odissi dance researcher and choreographer; Villianur Munusamy, terracotta expert; Paul Kornenberg, Founder of Social Enterprise, Kanthari; Architects of Laurie Baker Center in Thiruvananthapuram; Aurelio, founder of Svaram Musical Instruments and Research; and Krupa Jhaveri, director of Sankalpa.
The programme was conducted in English, but was simultaneously translated into Tamil. As part of the programme, students collaborated to make curricular drawings on the walls — and jointly taught English to students — of Edyanchavadi middle school.
Mr. Namasivayam said the schoolchildren from village will interact with their friends from Turkey on Skype and will be taken to Istanbul next June to reconnect with them.