Just pick a scooter, drive it, then park it. Someone else takes care of the charging.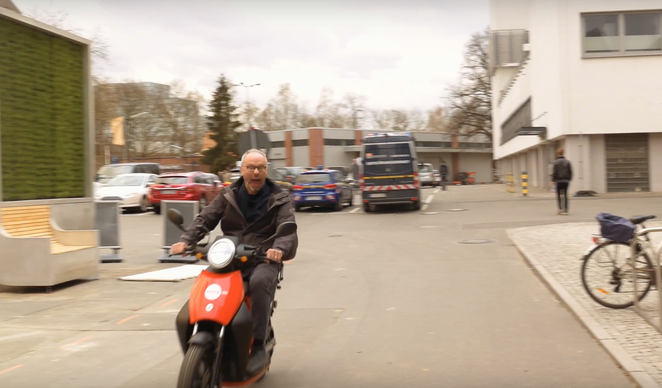 There was a time when battery swapping was heralded as the future of electrified transportation. But a combination of longer range electric vehicles, super fast charging, and the fact that most owners charge at home most of the time meant that many of the early battery swapping concepts never really took off.
That said, there are applications where battery swapping may make sense. And Berlin's Emmy scooter-share scheme may be one of them. Using a simple app (of course) riders can reserve an electric scooter, activate it, grab one of the helmets in the compartment and ride—paying either per minute of use, per kilometer, or a daily rate. There is a one-time 10 € registration fee, but Emmy currently has a promotion offering free signups.
And you can leave the scooter anywhere within the S-Bahn ring of Berlin. Charging is taken care of by a mobile (electric, of course) battery swapping team who deliver new batteries (including a couple of spares) to each scooter. It's a pretty neat solution for a dense urban area where parking and charging spots may be at a premium. Currently there are 150 scooters in and around the city, with 200 more on the way.
The intrepid Robert Llewellyn of Fully Charged took one for a spin. (He's on a private road, but yes, he probably should have worn a helmet. Naughty boy.)
As always, if you like what he did here, please consider supporting Robert Llewellyn and Fully Charged via Patreon.