The iconic Dutch
windmill
is getting a high-tech makeover with a big eco-friendly boost. Today the
Windwheel Corporation
unveiled new designs for the Dutch Windwheel, a circular building that harnesses clean energy and houses private residences as well as public venues. Created for Rotterdam, the futuristic building aims to transform the city skyline with an eye-catching landmark that sets a new benchmark for healthy, sustainable design.
via inhabitat by Lucy Wang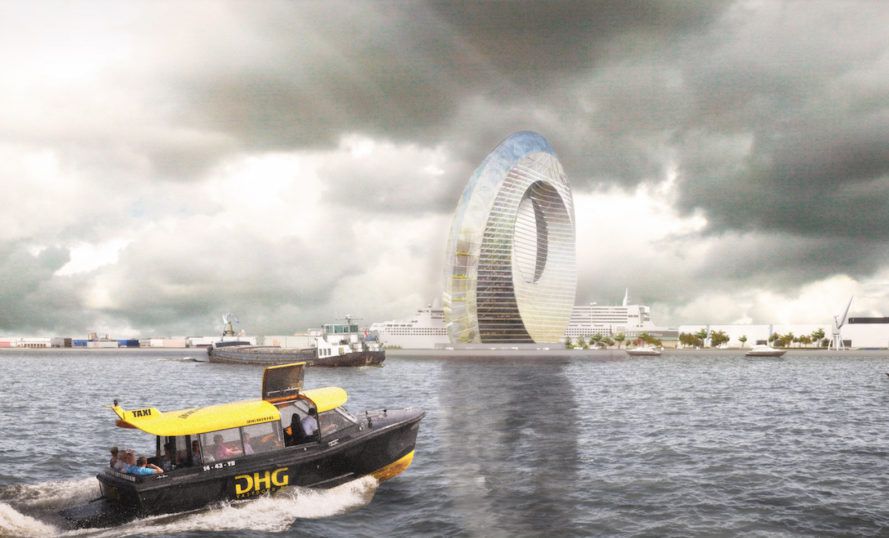 First unveiled in mid-2015, the Dutch Windwheel 2.0 fleshes out the project's programmatic functions, circulation patterns, and energy systems in more detail. Windwheel Corporation worked with a team of innovators, including Arup, Royal BAM Groep, Deltares, and others, to develop the project. A Green Deal was also signed today at Rotterdam's World Trade Center by Minister Kamp, Provincial Executive member Bom-Lemstra (province of Zuid-Holland) and Alderman Struijvenberg (municipality Rotterdam) to increase the project's chances of realization.
The innovative Dutch Windwheel comprises apartments, a hotel, a space for short-stay housing, commercial and cultural space, a cruise terminal, and a sky lobby with a restaurant at the top of the building. Similar to a Ferris wheel, the Windwheel will be equipped with mobile cabins that transport visitors to the highest point of the structure. Certain cabins will have special features, such as the Bar cabin with food and drinks, the Relax cabin for yoga and relaxation, and even a cabin that goes underwater for up-close views of aquatic life. Elevators and stairs will also be installed.
The disk-like building will be built with locally sourced materials and wrapped in a smart plant-covered skin that reflects unwanted solar heat gain while letting in natural light and ventilation. Rainwater will be captured and reused throughout the building. Artificial wetlands provide water filtration and habitat. The facade will be integrated with solar panels and wind energy will also be harnessed. Organic waste will be collected for biogas production.