"This is a true revolution for the footwear industry with the first plant based alternative to the petro-foams in ubiquitous use. We are thrilled to be the first company to use Bloom in our shoes and further our mission to make the perfect shoe—perfect for feet and minimal impact on the planet", so Galahad Clark, Founder and Director Vivobarefoot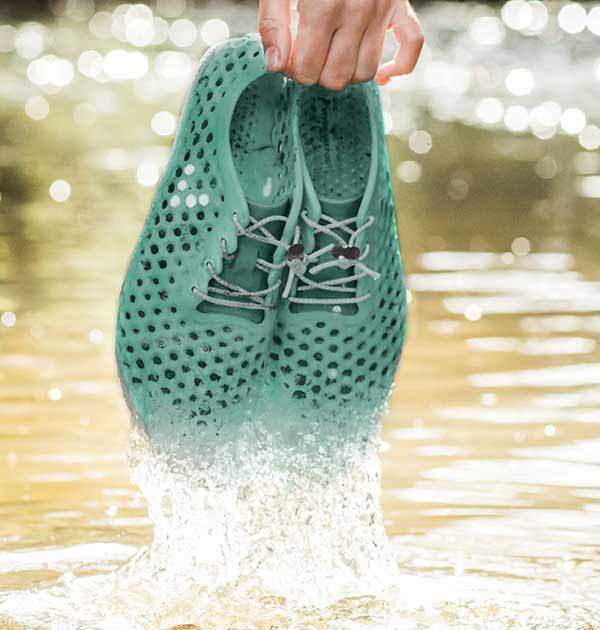 via Vivobarefoot website
This July, we'll be launching an ultra-eco take on our hero amphibious shoe, the Ultra III. Made using Algae rescued from waterways from around the World, this shoe is the latest of our sustainable design initiatives. The shoe is launched in collaboration with Bloom Foam, an eco-crusading team based in Mississippi who define themselves as "the world's first plant-based, high-performance solution to synthetic and petroleum-based flexible foams."
Every pair will help re-circulate 57 gallons of filtered water back into natural habitats, and prevent the equivalent of 40 balloons full of CO2 being released into the Earth's atmosphere. The Bloom Foam is created by harvesting algal biomass from freshwater sources at high risk of algal bloom.
You may have heard of Bloom Foam already. It's gained recent international media coverage with the support of World Champion surfer, Kelly Slater, who's released surfing traction pads using the eco-friendly material to the applaud of fellow eco-conscious surfers.
Harmful Algal blooms pose an eco-crisis threating marine environments the World over. Chemical wastes –notably containing phosphorous and nitrates, often found in fertilizers – are seeping into our waterways and creating conditions that trigger the uncontrollable growth of Algae. The Algae releases toxins harmful to humans and animals, as well as depleting oxygen in the water and blocking sunlight – vital components to a healthy marine ecosystem. This can lead to mass deaths of local wildlife (marine mammals, fish-stocks, birds) and the pollution of drinking water and the air we breathe.
By removing the Algae from marine-systems and replacing the ecologically harmful petro-based materials used for so many modern products, Bloom Foam is tackling the problem head on. Better still, it's a naturally perfect material for an Amphibious shoe like the Ultra III – being highly flexible and lightweight. By supporting products made using Bloom Foam technology, we can help make the World a cleaner place.