The solution: A Roof + A Skill + A Market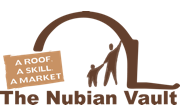 via The Bubian Vault website
After two years of technical trials, a French builder, Thomas Granier, and a Burkinabé farmer, Séri Youlou, set up the Association la Voûte Nubienne (AVN) in the year 2000.
AVN's mission is to improve housing conditions through an appropriate architecture, as soon as possible, for as many people as possible. In sub-Saharan Africa, the struggle to obtain decent housing plunges millions of families into a vicious circle of poverty. AVN offers a solution to this problem, based on three integrated concepts:
A Roof + A Skill + A Market
AVN organises the training and support of local Nubian Vault (NV) builders and entrepreneurs to promote this solution on a large-scale, with a view to developing a self-sustaining market in NV construction. As a result, families can acquire affordable, sustainable, and decent housing, at the same time improving their economic conditions, their quality of life, and their environment.
A Roof: the Nubian Vault technique
The Nubian Vault technique is based on an age-old method of timberless vault construction, originating in upper Egypt. It uses only earth bricks and earth mortar. Vaults of unfired earth bricks at the Ramesseum, the funerary temple of Rameses II in Luxor, are still standing after 3,250 years. The NV technique is virtually unknown elsewhere in Africa.
During the last ten years, AVN has successfully introduced a simplified, standardised version of this ancient technique in Burkina Faso, Mali, Senegal, and Zambia - a good example of 'South to South' technology transfer.
The Nubian Vault construction method is:
ecologically sustainable - using neither corrugated iron roofing sheets, which are expensive and difficult to recycle, nor timber beams, rafters, or supports;
carbon neutral - none of the building materials need to be manufactured or transported long distances, nor do any trees need to be cut down;
economically viable - locally available raw materials (earth, rocks, and water) are used, thus favouring local economic circuits and self-sufficiency;
comfortable - due to the excellent thermal and acoustic insulation properties of earth construction;
durable - NV buildings have a far longer lifetime than those with corrugated iron and timber roofs, and maintenance is simple;
modular - it can be used for a wide range of buildings (houses, schools, health centres...), of different styles (flat terrace roofs, two-storey buildings, courtyard buildings...), which are easily extendable;
vernacular - incorporating traditional practices and aesthetics of earth architecture.
There are five, progressive, Classes of NV apprentices and masons, all of whom are trained on actual NV building sites:
C1: a novice apprentice
C2: an advanced apprentice
C3: a mason, able to build a vault
C4: a foreman, able to supervise a construction site
C5: a builder-entrepreneur, able to negotiate with clients and supervise several sites.
By 2011, there were over 214 trained NV masons, half of whom were C4 and C5; around 150 apprentices (C1 and C2) were in training during the 2010/11 construction season.
The NV masons are local, currently from Burkina Faso, Senegal or Mali, and most of them are subsistence farmers. In their role as NV masons, they:
are trained on site as apprentices by other masons, and introduced to market realities
promote the VN technique and sell their know-how locally
supervise the NV construction sites
share their experiences with other masons and transfer their know-how to trainers
are paid 100% by their clients, in cash, trade or barter
can not only build simple houses, but also, in partnership with local organizations, public buildings (schools, community centers, churches, mosques, dispensaries…).
NV masons' congress, Boromo
The masons are not employed by AVN; however, the majority of trained NV masons collaborate with La Voûte Nubienne, exchanging ideas and information about the market, clients' needs, and potential apprentices, both informally, and at formal congresses arranged by AVN each year. Some of them go further, getting involved as extension agents promoting the VN technique, for which AVN then provides compensation.
Selection & training of apprentices
Apprentices are chosen from the local population: the selection is made by the local community in collaboration with experienced NV masons and/or AVN extension agents. Apprentices progress from laboring work, to making brcks for the vault, to observing and assisting experienced masons in the skilled work of vault construction. Depending on the level of commitment and the starting point of each apprentice, it can take one or two construction seasons of on-site apprenticeship before an apprentice goes from the C2 level to C3, able to build a vault. In 2011, there were 150 apprentices in the AVN program.
NV apprentices learning 'on the job'
The rate of recruitment and training of apprentices is one of the main factors affecting the growth of the Program; AVN is introducing measures to increase the number of apprentices successfully recruited and trained by each experienced mason each year. These measures include:
selecting apprentices with prior experience of mud-brick construction
evaluation and monitoring of training to reduce drop-out rates
encouraging NV entrepreneurs to take on apprentices, to train site foremen, and thus expand their business
the development of training modules (project management, costing, drawing plans...) to improve entrepreneurial skills to pass on to apprentices
choosing local partners to play a role in apprentice training
scheduling the construction season to maximise the number of building sites and thus the opportunities for training (for example, work for wealthier clients in November and December, for village families from January - March when farmwork is minimal, and for clients who have access to permanent supplies of water from April-June).
NV masons, builders, & entrepreneurs
At the end of their apprenticeship, and with the support of AVN and our network of contacts, newly trained masons are encouraged to start engaging with clients, and to market their skills to new clients in the locality. Masons who have reached the level of site foreman (C4) or entrepreneur (C5) are entirely responsible for their construction projects and for the salaries of their masons and apprentices.

By the end of 2011, through the Earth roofs for the Sahel program, around 120 builders and entrepreneurs (Class 4 & 5), and 100 masons (Class3) had been trained; 150 or so apprentices were working alongside them. Since the start of the program, the average annual increase in numbers of Class 3 - 5 masons trained has been around 25%.
The trained and experienced NV masons have no difficulty in finding clients and marketing their skills, as the demand for new NV constructions is currently outstripping the supply of skilled builders. And quite a few of the more ambitious NV builders and entrepreneurs are working on AVN pilot projects outside the Sahel (Zambia, Madagascar, Rwanda...).

VN masons at work

The future success and growth of the avn program depends entirely on the commitment, skills, and enthusiasm of these brave men, who are gradually opening up and developing a self-sustaining market in nubian vault construction.
Stimulating the market for NV housing
AVN's mission is to promote the Nubian Vault as soon as possible, for as many beneficiaries as possible.
To do this, the Association first trains and guides extension agents to "pump-prime" local markets, starting from a base of pilot villages, evolving into pilot zones, and then into entire regions. The pump-priming process starts with the identification of local 'champions' and supporters, and the running of promotional meetings at village level.
Scenes from promotional meetings
Our objective over the next 15 years, is to promote national self-sustaining markets in NV housing by multiplying local, regional, and national initiatives through:
creating new regional centers and teams in the countries where AVN is active
setting up franchise arrangements and partnerships with other NGO's and development organisations, whose field staff are trained by AVN.
The majority of AVN's resources (~ 80%) target our main priority groups of 'bottom of the pyramid' families surviving in an informal economy in rural and semi-rural sectors. But as the NV concept becomes better known, other client groups (urban families, local authorities, NGO's...) are appearing and expanding the market for trained NV builders and entrepreneurs.