via treegugger blog by Kimberley Mok All picture copyright Kasita
Last year we took a closer look at Kasita, an Austin, Texas startup that's developed what they are calling an "iPhone for housing". The company's aim is to completely rethink housing as a smart technological product and as a user experience -- packaged as an affordable, portable, prefabricated micro-home.
The idea of owning a home that you can take with you is a tantalizing one -- no more serial apartment-hunting or sketchy roommates. Now, after almost a year since that first Kasita prototype was built, the company is in the process of producing its first run of commercially available, new-and-improved Kasitas. Take a tour:
Much has improved and expanded since last year's prototype. As Kasita CEO and co-Founder Jeff Wilson (also known for his quirky small-space living experiment in a renovated dumpster) tells us, the new Kasitas are 50 percent larger, bumping up to 352 square feet. From the looks of it, it seems wider and generous enough for hosting parties, or even tossing things in the air, as the ceiling tops out at a maximum height of 10'2" in the living room.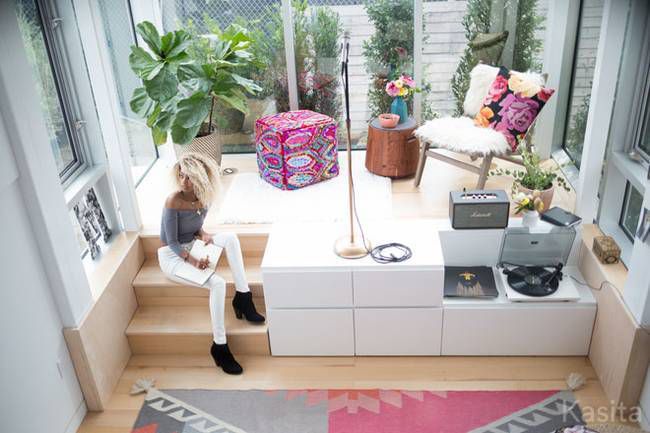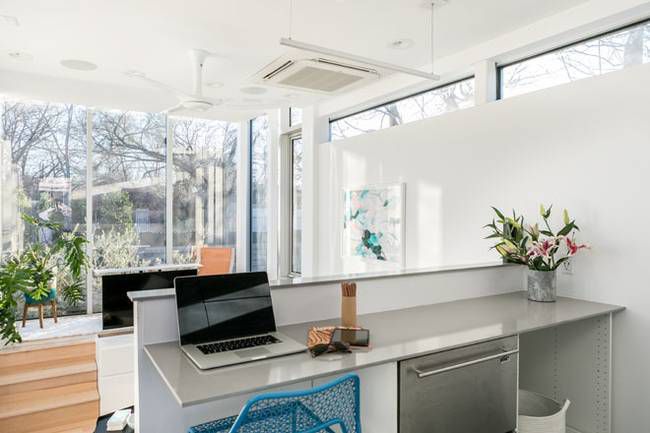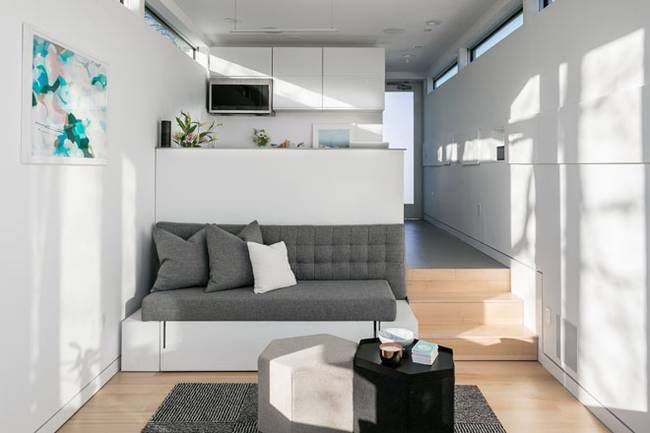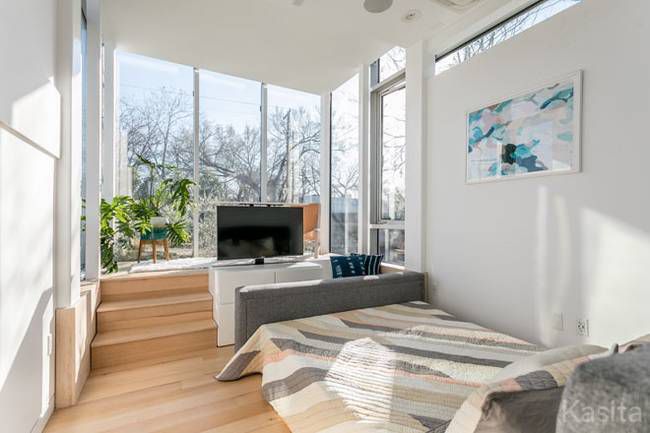 Programmable & stackable
Much of the prototype's smart home technology has been further refined. All of it can be controlled via a smartphone app or the Amazon Dot voice-controller: such as adjusting the transparency on the home's dichromic glass box that surrounds the mini-solarium, as well as tweaking temperature, lighting and the integrated sound system. Water and energy use can also be easily monitored and self-optimized by the user; there is an energy recovery ventilation system included. Other features include an energy-efficient, tight building envelope and continuous insulation to prevent thermal bridging, a tankless water heater, washer/dryer, queen bed, fridge drawer, Lutron dimmer switches, Doorbird doorbell and camera, and a highly water-efficient Nebia shower.
To top it off, the Kasita comes with several preprogrammed environmental settings to fit what the company calls "moods". For instance, in the morning, the "wake up" mood is automatically initiated, turning on the lights and your favourite radio station, while another group of personalized settings can be used for when you come home from work. The goal is to create a seamless, fully integrated "easy home" experience that's protected by a secure network typology, rather than an Internet of Things hodgepodge that's vulnerable to hacking.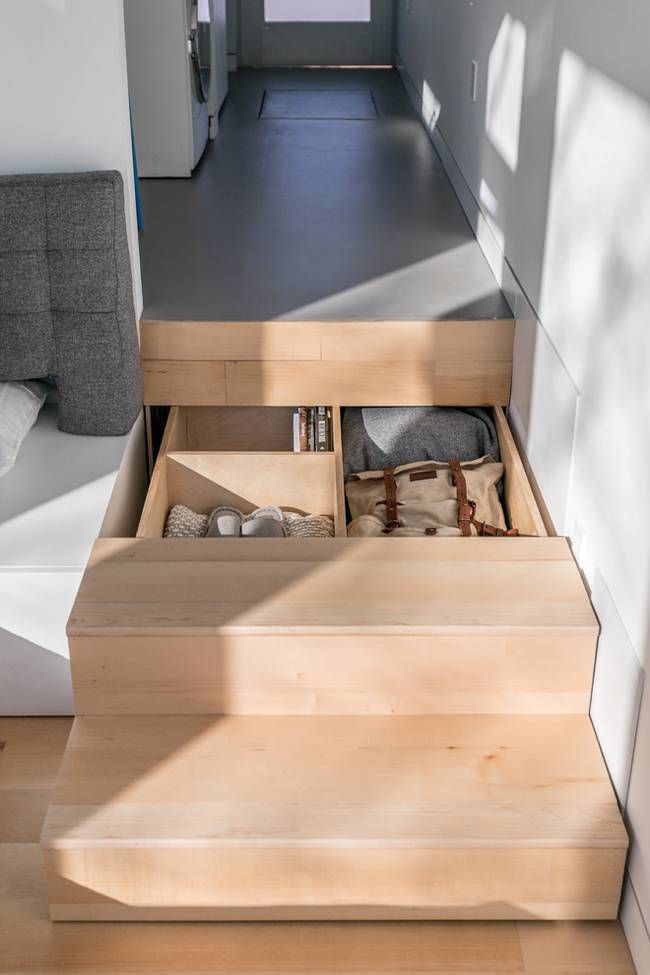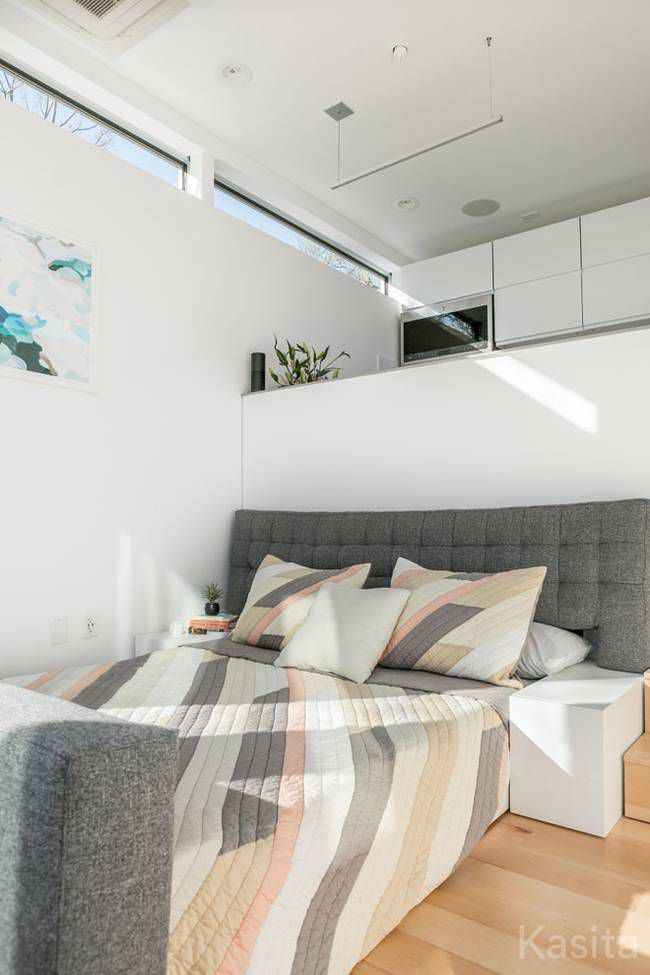 Most importantly, though they can be placed in a backyard or even a roof, multiple Kasita units can be placed on top of one another to save space in land-scarce urban areas, meaning that they could someday be one possible solution to the affordable housing crisis that we are seeing in so many cities.
The new version of the Kasita however, has been redesigned to stack up and will stay in place, rather than being inserted into a wine rack-like structure and moving with its owner as previously intended. It may be a bit of a letdown for those who were enticed by the idea of owning something portable, but according to Wilson, the company's research shows that is what people want, adding that stacking approach gives more density, increases energy efficiency and reduces cost. There is a big opportunity here to lease out under-utilized urban land for owners of micro-homes like the Kasitas.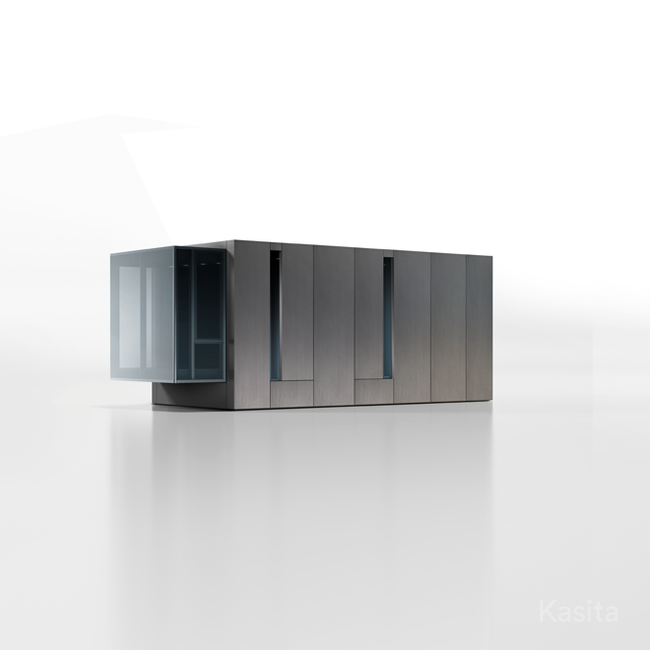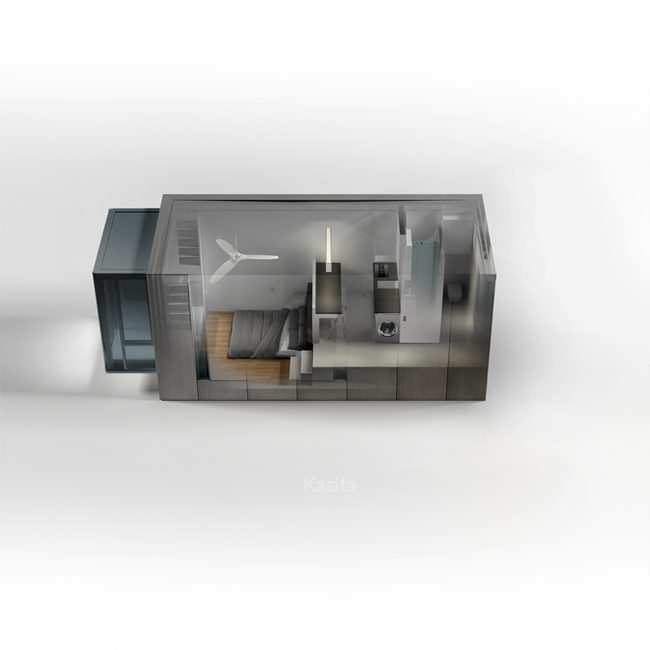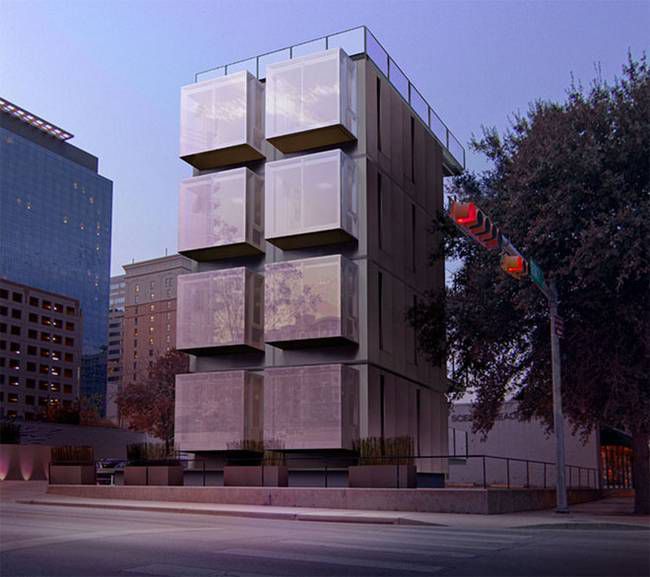 Wilson says that the company is intentionally approaching housing as a product or service, rather than doing things as they've always been done. The idea is to bring innovation and an enhanced user experience to housing -- concepts that you'd more likely hear surrounding the latest tech gadgets rather a house. "What you get in the Kasita is a million-dollar champagne smart home -- on a budget," says Wilson.
Priced at USD $139,000 (there's a discount for real estate developers who purchase multiples), the Kasita seems relatively affordable considering all the features that's included, especially if you factor in its portability, and its ability to be stacked up in groups. Part tiny house, part shipping container, and part smart home, this prefab will no doubt appeal to some of the 77 percent of millennials who say that they want to buy a home, yet cannot afford rising home prices.
Some may take issue to housing being designed in this way, but we know that in order for affordable housing to happen, something has to evolve. "Our goal is to build a global network and communities of people who are fed up with traditional options and want innovative housing," says Wilson. "We want to change and shift how real estate works, and how we live our lives."
Kasita is now taking registrations for its first production run; a $1,000 fee will reserve your spot in line, with delivery beginning in June. For more information, visit Kasita.
[Update: Post corrected to elaborate on the Kasita's new stacking concept, which will have the units stay in place, rather than move with its owner.]