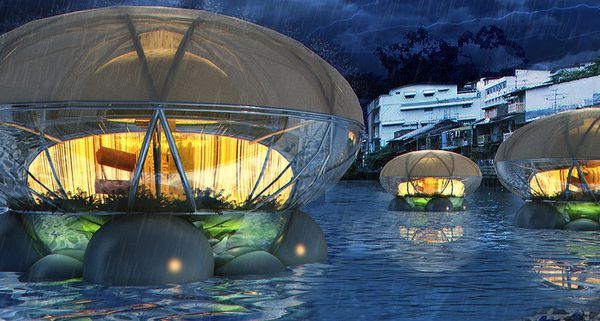 via inhabitat by Katie Medlock
Could a fleet of floating jellyfish purify our polluted rivers and streams? That's the idea behind Janine Hung's Jellyfish Lodge, which protects the land, air, and water while growing healthy food. A combination of trash-collecting tentacles, aquaponic gardens, and water filtration systems give back to the environment in an impressive feat of biodesign.
Janine Hung created the Jellyfish Lodge as a solution to problems plaguing the world's waterways. The solar-powered structures feature interior gardens that flourish while filtering polluted water. The jellyfish' long tentacle arms collect drifting trash without harming wildlife. They also test water for toxicity and begin the process of treating water though unique microbial digestion chambers. Once it is purified, water is returned to the surrounding environment.
The aquaponic gardens grow food while purifying the air with an electrostatic system. The project would encourage nearby residents to maintain the lodges while reaping the benefits of the food grown inside. The Jellyfish Lodge received an Honorable Mention in this year's Biodesign Competition.