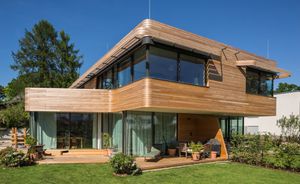 via inhabitat by Lidija Grozdani
A single family house and two semi-detached houses in Berlin generate more energy than they consume - enough to power the car in the garage. Designed by German design studio GRAFT in collaboration with engineering firm BuroHappold, the houses are intelligent, environmentally sustainable, and equipped with state-of-the-art technology that supports mobility and physical health.
The three structures, collectively named "Holistic Living", are the result of a holistic design approach that combines energy efficiency, mobility and health. Each building was built using natural, recyclable materials-walls, ceilings and roofs are made of wood and clay.
Triple glazing and thermally insulated envelope prevent thermal bridges. Floor heating systems and a heat recovery ventilation system provide stable indoor temperatures throughout the year. Photovoltaic panels installed on the roof generate enough energy to meet total energy requirements of the property. This energy is also used to charge an e-car. Thanks to their outstanding energy performance, the buildings meet the requirements of the German Plus Energy House standard.