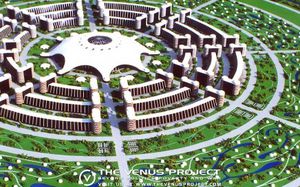 via websiteFUTURE MY LOVE

Hans-Peters comment:  If you a Futurist or interested in our Future The Venus Project you need to be aware of. The Venus Project proposes an alternative vision of what the future can be if we apply what we already know in order to achieve a sustainable new world civilization. It calls for a straightforward redesign of our culture in which the age-old inadequacies of war, poverty, hunger, debt and unnecessary human suffering are viewed not only as avoidable, but as totally unacceptable. Anything less will result in a continuation of the same catalog of problems inherent in today's world.
FUTURE MY LOVE is a unique love story challenging our collective and personal utopias in search of freedom.
At the brink of losing the idealistic love of her life, filmmaker Maja Borg takes us on a poetic road trip through the financial collapse, exploring a radically different economic and social model proposed by 100-year-old futurist Jacque Fresco. How much freedom are we prepared to give to the ones we love? And how much responsibility are we ready to take for our society?
Carefully weaving a texture of archive footage, black and white Super 8 film, and colour HD, Borg poignantly depicts the universal struggle between our heads and hearts in times of big change.
"FUTURE MY LOVE challenges the viewer to examine and confront traditions and norms of society." Jaques Fresco