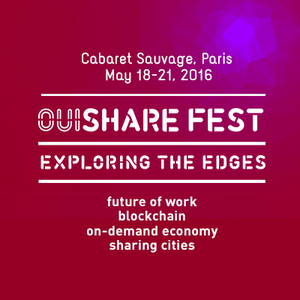 via OUIshare 
Hans-Peters comment: 2012 started Ouishare in Paris. I personaly enjoy that a movement started in the french speaking world and is now an international leader in the collaborative economy field. A non-profit organization which has rapidly evolved from a handful of enthusiasts to a global movement in dozens of countries in Europe, Latin and North America and the Middle East, our network of expert Connectors engage hundreds of members and contributors worldwide.
OuiShare Fest gathers creative leaders, entrepreneurs, movement builders, purpose-driven organizations and communities from across the globe to explore the edges of the economy, society and ourselves.
Prepare yourself for 4 days of deep conversation, experimentation and collaboration to work on creative solutions to the complex issues of our times.
Join 2000 pioneers and settlers this May on a journey to step out of your comfort zone and connect with yourself and others dedicated to driving systemic and meaningful change.
After the Gold Rush... is the moment for action. Are you ready? Then join us in Paris, May 18-21, 2016!
Program:
OuiShare Fest will focus on 6 macro-topics, exploring two macro-topics per day. Starting from the systemic level on day one, we'll move onto the organisational level before finally examining the role of individuals, exploring these through a series of key questions.
Sessions will be labelled clearly according to the level of expertise required to make the most out of them, allowing you to find the content best designed for you.
Questions for the OuiShare Fest program:
Who will we work for platforms, robots or nobody? How can we reinvent organizations for the digital age? Can we fix democracy? These are OuiShare's questions for 2016, which we will explore at this year's OuiShare Fest.
The countdown is on: in 5 weeks 2000 innovators will gather for our 4th Fest in Paris for +200 sessions in 7 spaces during 3 professional days and 1 public day. From the future of work, to civic tech, blockchain, sharing cities, organizational transformation and mindfulness, we have put together a diverse program – but that is not all!
QUIshare comment
OuiShare is a global community and think and do-tank. Our mission is to build and nurture a collaborative society by connecting people, organizations and ideas around fairness, openness and trust. We believe that economic, political and social systems based on these values can solve many of the complex challenges the world faces, and enable everyone to access to the resources and opportunities they need to thrive.