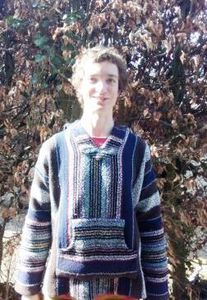 Selfintroduction by Simon
Author: Simon Poeschel
At the beginning of this column (will be soon posted Red.) I, Simon, want to introduce myself shortly because afterwards you'll probably understand my conclusions better. Of course their origin lies in experiences which we all make on our own in life. So let's start.
During my schooldays the capitalism system started becoming interesting for me. I was engaged in trying to understand the economy system in which we all are living. How does humanity's inequity arise? How can it be that there are some less rich people who rip world population's main part and our planet off? Questions like these were present for me in the past. The results which I got out from these experiences were kind of sadly that we can't change anything in this system because its profiteers would be too powerful. Today I think that they reached their aim because a kind of paralysis came over me which prevented me from working on any system changes.
When I was 17 some chance encounters encouraged me starting to help in micro scale. Baobab Family, a very small German-Kenian association, has one children's home for orphans at the east coast of Kenya closed to Mombasa. For the next years organizing charity concerts became a big part of my life. During these days I got in touch with the man who founded this small project in 2001. One of the project's principles was helping to help themselves. That means necessary investments and financing at the beginning were carried from German money and with continued time the project in Kenya should finance itself, specially with a small scaled agriculture for self sufficiency. Unfortunately until today the project is still dependent from members and fund-raisers in Germany which has not only one reason, of course. Surely one of them is that "western" people give money for free as a donation to the "poor" Africans. Automatically you find a hierarchy. The white man has a guilty conscience because of the (past) colonization or maybe even because of his current life style. The black man says why shall I work by myself when I get kind of "reparations"? Later on I was traveling a long time through East Africa and saw many similar projects with the same problems as we are still faced with.
Andi, the founder, realized this a few years ago but still had the wish and vision to help. Because he loves baobab trees (grow in savanna, protect the soil from erosion and serve as water tank for other plants in environment) and saw the importance of those trees for local population and the vulnerable ecosystem savanna, he started the Baobab Social Business. By importing baobab fruit powder for fair prices he creates well payed jobs for Senegalese farmers on the one hand and on the other locals have a further, financial reason to protect those age-old trees. Because I was persuaded of supporting this idea I delayed my planed Africa journey and started organizing the FAIR-ÄNDER-BARmobil. This should become a tour through Germany and Austria in the middle of 2012 for the purpose to inform about fair trade and our business. It should be realized with a combination composed of information, selling self-made food and drinks and (political) entertainment from different kinds of artists. As you noticed this tour never started. A few days before it should start we had a car accident so it was impossible undertaking this tour. Nevertheless it was a very informative time for myself for many reasons. One conclusion was that it's not possible neither for small nor for big scaled businesses to ensure that all of their as fair or organic certificated products hold what they promise. Result for me: Less distributors cause less potential cheating. As a consequence of this I began to prefer consuming regionally and seasonally. Onother example out of these days: I lived at a old farmer's house with a huge garden which was used for growing vegetables in a permacultural way by my roommate. Sheep and chicken as our diligent workers were part of this productive system. This was the first time in my life when I got in touch with a food production which works together with and not against nature. I became interested in understanding how nature works (in a scientifically way) and after traveling I started studying environmental sciences. Now my bachelor-degree is almost finished. In the past two years during studying the way of building cooperatives for food supply crossed my life. Since one year my flatshare is member at a neighbored CSA – community supported agriculture. Further some like-minded people and me started organizing a FoodCoop (food cooperation) about 1.5 years ago where we buy bulk food collaboratively – of course without wasting recourses like plastic. In course of this I met Hans-Peter with whom I enjoyed a few very inspirational talks in the last years. After a longer time I'm happy to start this column. Many ideas come to my mind, so I hope you'll read the further blogs.