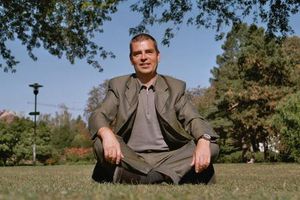 via Inc. By Travis Wright
Wisdom 2.0 shows that there are pathways to not just living with technology, but using it to create a healthier and welcoming world.
What do spirituality and technology have in common? A lot more than you think--and it's not just about taking virtual yoga classes or downloading meditation apps to your iPhone. If you're an entrepreneur, you're used to attending conferences centered on subjects like the latest tech tools, social media engagement, search engine optimization and getting ready for mobile readiness. These are all important aspects of being an entrepreneur, but there's an imbalance taking place in the startup world. Wisdom 2.0 is a conference tackling one of the biggest challenges of today's age. Connect through technology, but do so in a way that supports a person's well-being, work effectiveness, and is ultimately useful to the world.
Having It All Isn't What You Think
Attend many a yoga class, and you may hear about the importance of unplugging and going on a "digital detox". It's still an elitist bragging right to say you "don't have a TV." Sleep hygiene experts suggest not looking at a screen for at least two hours before bed and having zero electronics in the bedroom.
However, Wisdom 2.0 shows that there are pathways to not just living with technology, but using it to create a healthier and welcoming world. At this year's conference, topics ranged from wisdom traditions, conscious business, to game development. The speaker rosters have included the founders of PayPal, Facebook, and Twitter --right alongside Buddhist monks preparing sand mandalas in silence. This year the CEO of LinkedIn, Jeff Wiener, discussed Conscious Business with Fred Kofman. Paths seemingly so different in both the startup culture and corporations, when mixed, can be so beautiful.
Just like in "real life" (cue the time to go meta if that's what you're feeling), there was plenty of networking events criss-crossing with celebrations. There were a number of cross-sector breakout sessions focusing on everything from politics to neuroscience, and networking was encouraged (albeit perhaps not in the way you're used to). This wasn't a slap-on-a-name-tag and push your business card kind of event, although there were sprinkles of that happening, too.
There were amazing after-hour networking events, with groups like Wisdompreneurs, a community for conscious entrepreneurs, Golden Goods, a conscious clothier for brands, bands and movements, Inspiration Campaign, which features positive messages on billboards, and Digital Detox, which runs retreats like, CampGrounded. Everywhere you looked there were amazing people, who desire to make the world a more mindful, conscious place.
But What the Heck is "Spiritual Technology?"
First of all, it's not something you can find on Amazon (or maybe it is, that shopping search engine giant is a beast). Spiritual technology is a means of integrating spirituality in whatever form appeals to you (be it mindfulness, meditation, yoga, prayer, or fill in the blank with your cup of tea) with the can't-escape demands of being an entrepreneur.
Technology, contrary to popular belief, isn't the enemy--no matter how many Terminator renditions there may be. It's a tool, and a powerful one, which means great responsibility and control must be exerted when using it. Ultimately, technology is only as powerful as you let it become, and there's certainly room for it in your spiritual journey.
However, that whole work-life balance thing can be tricky. Where does spirituality, no matter how you define it, fit in? Luckily, it can segue easily into both aspects: work and life. Tech can help keep you on track, but only if you consciously practice the mindfulness to keep things in balance and perspective.
The Rundown
Missed Wisdom 2.0 in San Francisco? Don't worry--there are plenty of opportunities throughout the year in other corners of the world as well as smaller sessions around the country. Also, there is a huge archive of videos on the Wisdom 2.0 site.
If you're craving a taster menu, here's a smattering of what was on offer just on the main stage:
Well-being is a Skill: Perspectives from Contemplative Neuroscience
Wisdom, Women & Technology: How Do We Begin to Have This Conversation
Lessons from Ferguson: Mindfulness, Justice & Community Healing
The Growth and Value of Live Events: Connection in the Digital Age
Heiwa Taiko Drummers
How Self-Inquiry Can Transform the Way We Live and Work
Playing in the Zone: Presence and Performance in Sports
Mindfulness in Business: Why It Matters
Expanding the Conversation: Inclusivity and Diversity in Tech and Society
Via their conference series, workshops and meetings around the world, this is a conference for every single entrepreneur, founder, business person, and human being who's interested in being part of such a conversation. The series is accessible, inclusive and always innovative.
Wisdom 2.0 Asia is slated for Singapore June 18-19 2015 in Suntec City, and 2015 dates for Wisdom 2.0 Business and Wisdom 2.0 Europe are still being decided. Most recently, the annual Wisdom 2.0 Conference was held February 27-March 1, 2015 in San Francisco. That's where I was, and it was amazing. I intend on attending every year from here on, not just for the conference content, but the people are incredible.
In tech and spirituality, there truly is something for everyone. The more you expose yourself to what's out there, the more you'll learn about yourself, your fellow men and women, and the world around you. The more mindful you are in the present moment, the more of yourself will be available to those around you.
Who says San Francisco can't be the biggest startup hub in the world and a leader in marrying spirituality with tech?