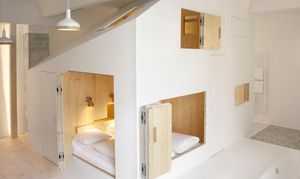 via inhabitat by Liz Eve
Hotel rooms could be so much more fun. To that end, Danish architect Sigurd Larsen has created the ultimate "grown up" playhouse design for two hotel rooms at the Michelberger Hotel in Berlin. Minimal white tiny house exteriors conceal warm wooden walled bedrooms, bathrooms and saunas inside the 'house and garden' style rooms.
The compact ground level of each tiny wooden house features a snug bedroom, sauna, toilet and kitchen. A staircase leads up to a second bedroom and a large hammock overlooks the rest of the room or garden space. "With this room you get a whole house," said Larsen. "Elements of a playhouse speak to the guest's childish side, but the house is kept pure and sharp to take this imaginative game of play into an adult mind."
In the "garden" visitors can discover a rain shower and step-down bathtub plus a sitting area on a terrace for "al fresco" dining.
Larsen said, "I'm a very enthusiastic hotel guest myself, and I love the experience of exploring a new temporary home. The initial idea was to create a space where the moment of arrival is about exploring and afterwards customising to your own personal way of using the space."
The Garden Room is one of 100 uniquely-designed suites within the Michelberger hotel in Berlin's popular Warschauer Strasse. If you want to book a stay, take a look at the room category 'Hideout'. Sigurd Larsen is based in Berlin and works across the fields of architecture and furniture design. He's well known for creating environmentally friendly and affordable prefab houses.
Links: