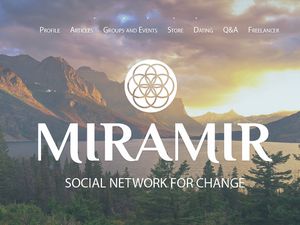 via offgrid.quest see also kickstart
After four years of programming and preparation, Max Sidorov and his team are nearing the launch of Miramir, the next generation in Social Networking! He touts that Miramir will do far more than Facebook is capable of. It is a culmination of segments resembling Facebook, Reddit, Ebay, Kickstarter, Meetup, Quora, Craigslist, Air B&B, Plenty Of fish... all rolled into one!
Facebook has been considered by many to be disfunctional since they monetized their traffic in what has been touted as a "bad for society" decision. They began determining what posts go viral and which ones do not using a computer algorithm to determine what's important. This algorithm basically gathers the information from its users, sells it to corporations, and sensors the truth.
The effects of Facebook's all-knowing algorithm include escalated angers and frustration, and they have single handedly turned the world into a tinderbox through their monetization technique.
"We need a platform that will hear our voices, our ideas, and our actions...a platform that will support the truth, promote amazing ideas and inventions, and allow like-minded communities to grow and thrive." says Max. "We will be changing all of that in one big swoop... Our model will avoid the failures that Facebook made in it's advertising structure, and focus on promoting fantastic communication and functionality for everyone."
- Profiles have the option of a private pseudonym that can publish content privately without revealing the users profile and identity.
- Mods are voted in and out by the user community.
- It is free forever and users will never have to pay anything to reach their circle of friends or followers.
- Updates and improvements are voted on by the user community.
-You can buy and sell things/tickets to events with cryptocurrency or regular currency.
- Full support for groups or individuals who need security and privacy, like media reporters, whistle-blowers, and people who are living under state-control and media-censorship.
Max studied Kinesiology in college, and has authored four books on alternative therapies and natural health. He is also a musician from Toronto, and you know what happens when creative types get a vision and some gumption..... great things happen.
"This new alternative social network for the alternative minds has launched on Kickstarter - and it needs our help! Miramir is aimed at the privacy fighters and change makers, activists and advocates, yogis and vegans, meditation enthusiasts and sacred geometry followers, preppers and alternative news readers, raw fooders, vegetarians and health conscious individuals, urban gardeners and alternative technology lovers, the kindness deeders and peace promoters of the world... all the great people of our earth who care for our planet, people, and future as a human race. Miramir is a multifunctional social network with a big difference: It is focused on privacy, freedom of information, the spread of good ideas, global awareness, community, interconnectedness, and a healthy future for humanity which we all want to be a part of. Lets rally together and unite people around the world to bring our earth into a new age of love, unity and abundance! The site is almost ready to launch, and just needs that last little push to get everything up and running.
You know, for something of this magnitude, it will need mega servers and internet speeeed so that it all runs as smooth as silk. Intial setup all costs money, and a little help goes a long way in this final launch. Click the link below to pledge your support, and take part in something great!