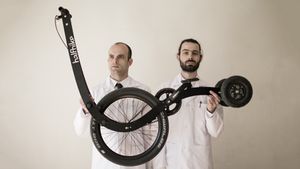 via inhabitat + website halfbike
Halfbike is a totally new kind of personal vehicle, built with the goal of awakening your natural instinct to move. The basic core of Halfbike is built on a bicycle design with a wheel connected to a crankset, but that's where the familiar design ends. With a movement somewhere between walking and riding, the Halfbike becomes a natural extension of the body and allows you to control the vehicle with your entire body, honing your balance and reflexes as you move. It's perfect for any kind of transportation, from commuting to recreation, and it is available now on Kickstarter.
The Team
Our story started back in 2009 when architect and co-founder Martin Angelov moved into a small apartment, and had to put his road bike into storage. Inspired by an architectural competition on new means of transport, he started sketching ideas for a new kind of bicycle based vehicle. A few initial sketches turned into a bunch of different designs, and eventually—over a dozen full-scale prototypes. In early 2014, over 400 amazing Kickstarter supporters helped us launch the Halfbike. We quickly set up a workshop, and have now shipped hundreds of handmade bikes all over the world.
Kolelinia is a startup company with a young and creative team. We stay guided by our passion for the outdoors and the community that has made our company possible, while continuing our search for alternative transport systems. Martin Angelov is the inventor of Halfbike and co-founder of Kolelinia with Mihail Klenov. Both are architects, passionate cyclists and have solid background in design and manufacturing.
We live in a dynamic time of technological leaps but at the same time the means of transport fail to keep up. We miss the joy of travel, the human scale, and the variety and believe there is a great potential for smarter human powered vehicles, and we are committed to prove it!