Lisa Randall via onbeing
"Our world is rich," Lisa Randall has written, "so rich that two of the most important questions particle physicists ask are: Why this richness? How is all the matter that I see related?" As one of the most influential theoretical physicists working today, she's increasingly interested in the interconnectedness between fields that have previously operated more autonomously: astronomy, biology, and paleontology. She's pursuing a theory that "dark matter" might have created the cosmic event that led to the extinction of the dinosaurs — and hence humanity's rise as a species. We explore what she's discovering, as well as the human questions and takeaways her work throws into relief.
Here episode at soundcloud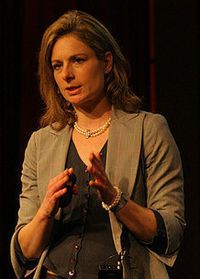 Lisa Randall at TED is the Frank B. Baird, Jr. Professor of Science at Harvard University. Her new book is Dark Matter and the Dinosaurs: The Astounding Interconnectedness of the Universe. She's also the author of Warped Passages: Unraveling the Mysteries of the Universe's Hidden Dimensions and Knocking on Heaven's Door: How Physics and Scientific Thinking Illuminate the Universe and the Modern World.