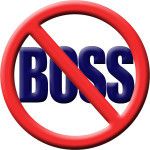 by  Edwin Jansen fiitzi Blog
Why We Got Rid of Management
It all started when we came across an amazing book called Reinventing Organizations, by Frederic Laloux, which details the practices of 12 thriving organizations who replaced traditional hierarchical management with "self-management" practices.
These organizations made a radical shift towards employee empowerment and as a result created workplaces with amazingly high engagement and incredible performance.
The more we learned about this new organizational paradigm, which Laloux labelled "Teal", the more we believed that it could not only benefit Fitzii – the self-management approach could solve many of the chronic issues plaguing business today.
How 'Self-Management' Works
These days at Fitzii, no one has any special manager authority. Instead, we adopted a set of expectations for how decisions are made, using what is commonly known as the "advice process".
Following the advice process means that anyone can make any decision, provided they first seek the advice of people affected by the decision, as well as any subject matter experts.
This is not a democratic or committee approach – the individual decision maker is left to make and be accountable for their decision – but they must seek and thoroughly consider all the advice they gather.
This requirement to work through decisions with all the right people not only drives both careful and creative thinking, it also uses the power of peer bonds to ensure that unpopular decisions are carefully weighed, reasoned, and explained.
Managing decisions through some version of the advice process is the keystone habit of self-managing organizations, but there are many other key activities that managers formerly took care of. Things like strategic planning, employee performance reviews, compensation setting, onboarding, hiring and (gulp) firing.
On the day we agreed to be rid of management roles we also decided to gradually implement self-management changes to all these processes as a team, with one person typically leading interested team-mates to come up with our own new way of handling each thing.