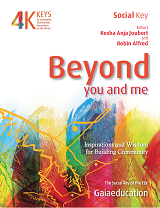 The Four Keys are four comprehensive books compiled by Gaia Education associates, offering an overview of cutting-edge thinking on design for sustainability at local, regional and global scales. Drawing from the experience emerging from the best research and development centers for carbon-constrained lifestyles, they are reference books for anyone seeking to develop a high quality low-impact life-style.

Each key covers one of the dimensions of the core Gaia Education curriculum: Economic, Worldview, Ecological and Social, making ideal companions on the journey of our face-to-face or virtual programmes.

Under UNESCO Patronage and as an official contribution to the United Nations Decade of Education for Sustainable Development the books offer widely applicable solutions to the complex problems of climate change, resources scarcity, carbon reduction and community resilience.
website Gaia Education